This walk is being (ably) led by Malcolm and Heather Noakes and I don't think they intend leading us up the tower, just admire and wonder.
Most of us will have seen this as a notable landmark on the borders of Somerset, Wiltshire and Dorset, just off the A303 near Stourhead Gardens. It is built from about a million bricks, and is triangular. There is a spiral staircase by which the brave can climb the 205 steps to the top.The staircase is not well lit with only ten windows. The centre is hollow and open to the weather. When built in 1768, the tower stood at the junction of the boundaries of three counties, but since then the Dorset boundary has been moved so that the tower now just sits on Wiltshire-Somerset.
It was built by the owner of Stourhead, one Henry Hoare, a banker . . . known to his intimates as 'the Magnificent'. (Wonder why?).
To find the start
Directions to Alfreds Tower. Grid Ref: ST749354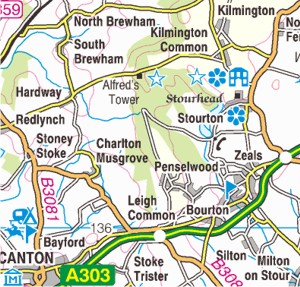 (Click on image to enlarge)

From A303 at Mere take the B3092 to Frome/ Stourhead. Proceed on this road past the turning to the 'House & Gardens' take the next left to Alfreds Tower (see right). Follow the lane and take the 1st left turn to the Tower. Follow the lane across open farmland into a tree lined avenue for approx 1.5ml. The car park will be found on the right.

From Bath direction A36 (A361)to Frome take the B3092 Maiden Bradley/Stourhead (NT Sign).
Follow the road thro Maiden Bradley until you see the Rt turn to the Tower. You have arrived at your destination!
Meet in the Car park 10.30am.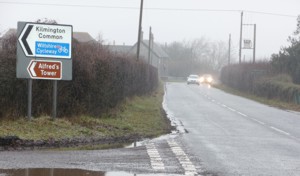 First left turn to the Tower
The walk is on NT land through some wonderful coniferous woodlands on forest tracks, passing Parkhill Iron-age fort and arriving at Six Wells Bottom. Here we will have the opportunity to take in some of the stunning landscape.
We will then head uphill to the Obelisk(c1746) following the 'Terrace' back to the Tower and Car park.
There will be lots of off-lead walking and plenty of room to gallop! There are some springs around for water. The walk is about 5.5mls with a few gentle slopes, hopefully not too much mud! (Remember that chaps).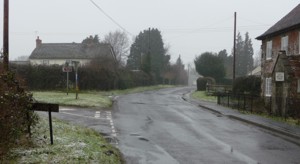 Second sign.